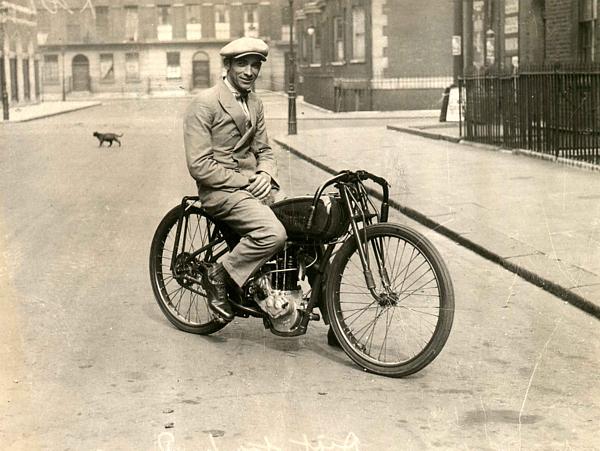 What a classic photo ! American Speedway Solo pioneer. "Sprouts" Elder on a Harley. on a deserted London street in 1928 in the dapper clothes of the "young blades " of those times. For a bonus there is a Black Cat !     One of John's most treasured photos.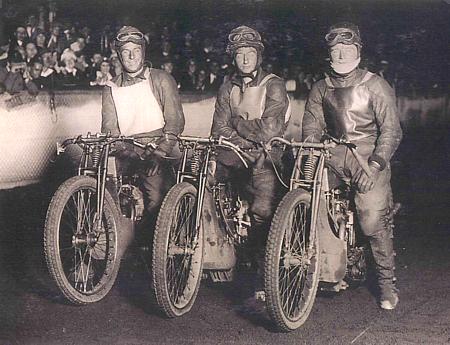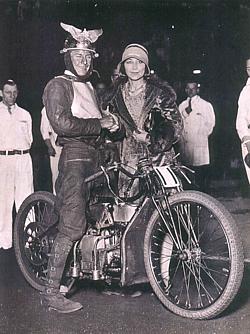 The 1929 Silver Helmet winner, Vic Huxley is congratulated by Mrs N.H.Pritchard , wife of the editor of Speedway News. Each of the top riders rated a Star number - they were excluded from team racing as they were too good.!      

Vic's number was 11.

Stamford Bridge 1931. Vic Huxley, "Dicky" Case and Ray Tauser.

The Yanks were too good in the 1937 World Final at Wembley ! L to R. Wilbur Lamoreaux 2nd., Jack Milne  1st., and brother Cordy Milne 3rd. The crowd for this match was 85,000. !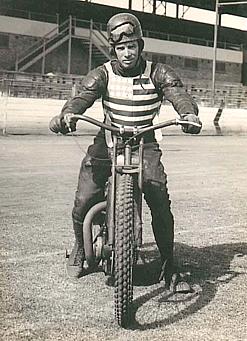 Jack Milne at the Sydney Sports Ground Speedway in 1938.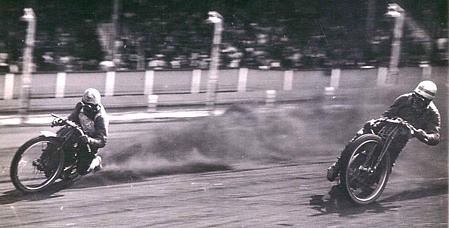 Two Aussie Speedway legends.  Billy "Cyclone" Lamont runs his trademark high line, they said he never "shut off" just kept it flat, and Vic "Broadside"  Huxley covers the low line at Wimbledon in 1930.

English Speedway stalwart, Jack Parker with South Australian Clem Mitchell at the Sydney Showground Speedway.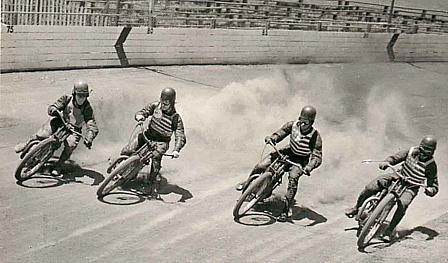 Australia's 1938 World Champ "Bluey" Wilkinson runs outside the three placegetters in the 1937 World Final.

L to R.

"Bluey" Wilkinson , "Cordy" Milne, Jack Milne and Wilbur Lamoreaux at the Sydney Sports Ground Speedway in 1938.