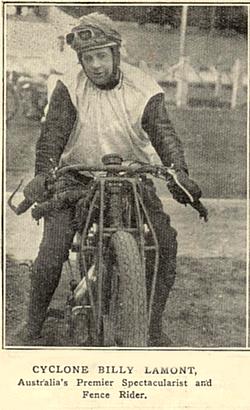 The records will show and it is generally accepted that the Sport of Speedway

( Dirt Track Motor Cycle Racing ) racing in an organised, short oval circuit form

( 1/4 or 1/2 mile ) originated at the West Maitland Showgrounds, West Maitland,  NSW, Australia mid December 1923.  Other forms of Motor Cycle racing on dirt, concrete and bitumen had taken place in different parts of the world before this date, but Speedway as we know it, ( or knew it ! ) started in Australia as above. 

Wilfred Stewart Lamont, born in Newcastle NSW, on August 12th 1908.

( They called him "The Human Cyclone" )

'Cyclone' Billy Lamont , a leg trailer and the original "fence rider", a man who rode inches off the fence lap after lap and who could only ride with the throttle "wide open", he didn't know what it meant to "shut off" !.  It has been said that "Billy" would often knock the programmes out of the spectators hands if they were too close to the fence ! ( believe it or not ! )  Billy whose proper name was not Billy, but Wilfred, had his first intial " W " in his name mistaken for William ( Bill ) when listed in the programmes as W.Lamont. They started calling him Billy and it stuck. Bill had his first ride at Rutherford, NSW ( near Maitland ) on an A.J.S. in 1924.  After serving his apprenticeship on NSW tracks Bill ended up in Brisbane, Queensland and in 1928 he was a member of the original party of Australian riders to go to Britain under the guidance of A.J.Hunting.  Others that went with him were Frank Arthur, Vic Huxley, Frank Pearce, Charlie Spinks, Dicky Smythe, Hillary Buchanan and Ben Unwin.  During the seasons he rode in Engand he rode on 27 different tracks and was publicly voted the most popular rider in Speedway in 1929.              He rode from 1924 to 1939.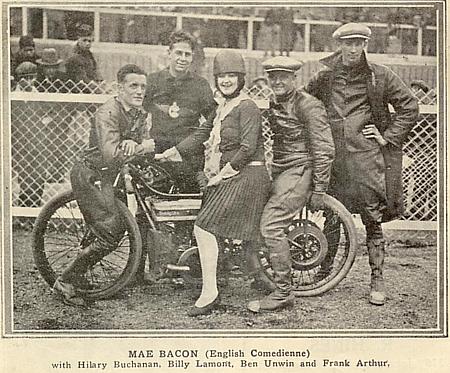 Four of A.J.Hunting's "First Fleet" to Britain.... pioneers of the great sport. Hilary Buchanan,  Billy Lamont,  Ben Unwin and  Frank Arthur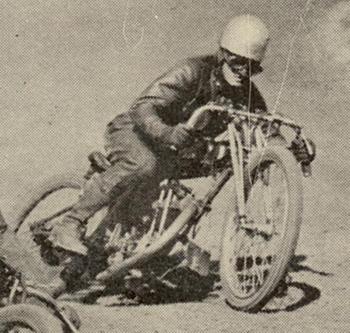 Ben Unwin of Queensland in action.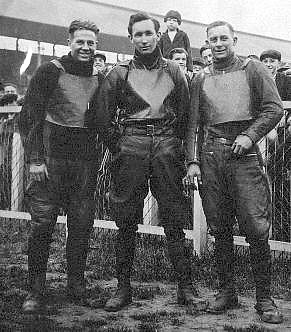 Billy Lamont, Frank Arthur and Vic Huxley, Some say Huxley was one of the all time greats.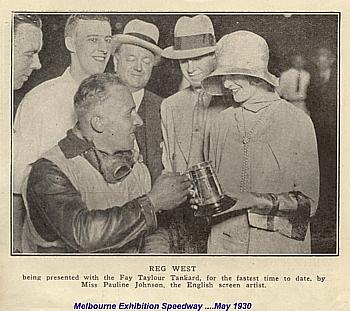 Victorian, Reg West held the Australian 2 mile Solo Championship in 1930.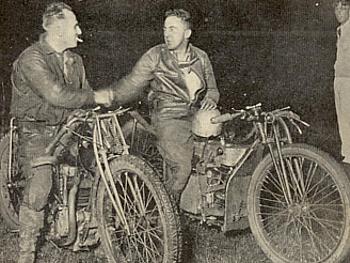 Reg West, left, congratulates fellow Aussie pioneer Paddy Dean ....Melbourne 1930..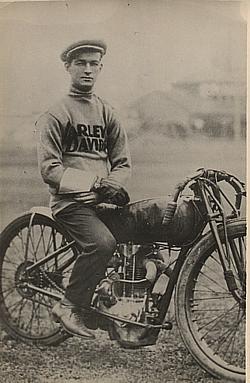 Tommy Benstead on his Harley. Tommy was the first to suggest safety fences after the first meetings at Maitland.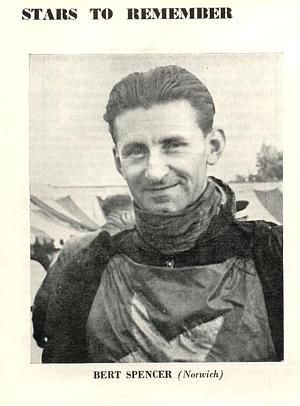 Bert Spencer one of the original Aussies to go to England to try their luck in 1928..Bert rode for several clubs in England and Captained Norwich in his final years of riding.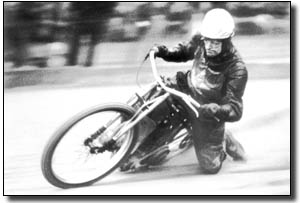 In total control at speed, leg trailer Aussie Bert Spencer, what a great photo !.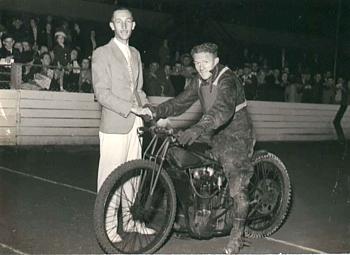 Back in Australia as a promoter of Empire Speedways, Frank Arthur stands with "Bluey"  Wilkinson on the track at the Royale,. John Hoskins was first to promote Speedway at the Sydney Showgrounds, Moore Park in 1926.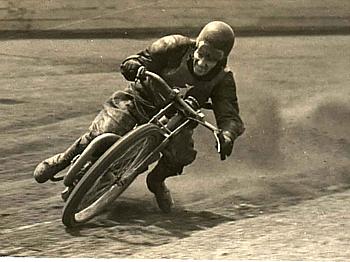 A smile on the face and goggles up ! ...The great Arthur George "Bluey" Wilkinson, the "Boy from Bathurst". Bluey went to England in 1929 at the tender age of 17 after seeing his first Speedway meeting at Bathurst  Sportsground, NSW, one year earlier. He left for England with 30 Pounds ( donated by the people of Bathurst ) and an introductory letter to Geoffrey "Buzz" Hibberd in his pocket. In 9 years he was the 1938 World Solo Champion.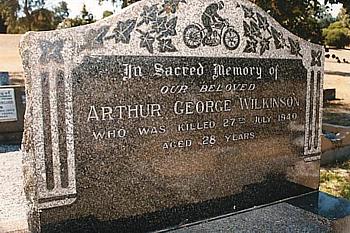 After riding the World's Speedways, side by side with other riders at breakneck speeds, Bluey retired to promote Speedway.  Later he returned home to Australia. In July 1940 he lost his life coming home from a night out at the theatre, with his wife as pillion passenger, when he was hit on his motorcycle by a truck.  He was only 28 years old.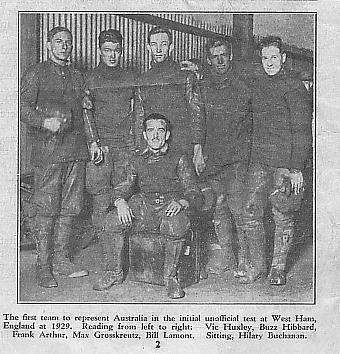 Our first Australian Test Team, unofficial as it was in 1929.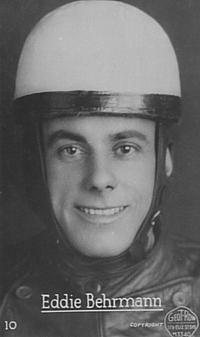 Pioneer Eddie Behrmann, Eddie also rode the Maroubra "Bowl" in later years.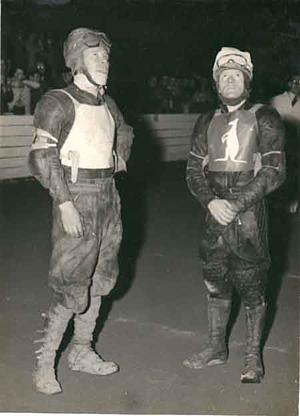 "Captains Courageous", Jack Parker of England ( left ) and "Bluey" Wilkinson of Australia wait for the coin to return to Australian soil after the toss for positions   ................... Sydney Showground.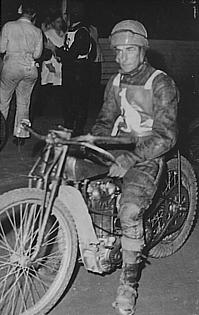 Aussie pioneer Charlie Spinks, wearing the Kangaroo breastplate. One of Hunting's "originals"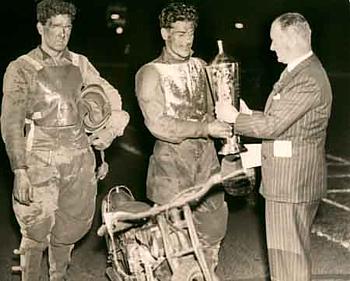 Aussie Lionel Van Praag accepts the First ever World Solo Speedway Rider's Championship Cup...Wembley 1936...a dejected Eric Langton..runner up... looks on.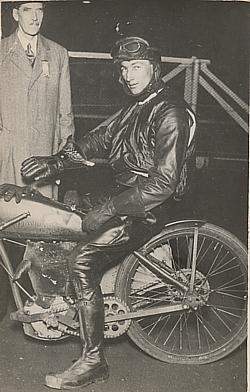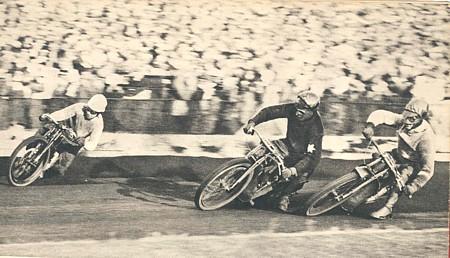 Australian Speedway legend, as a pioneer, rider and a Promoter.... Frank Arthur.

Frank Arthur ( in dark jersey ) battles it out in England during an early England vs Australia Test match.

Got any Pioneer Solo photos you would like to see on this page ? You can email me a copy if you wish.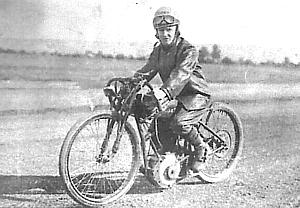 Jack Patman, a contracted rider to "Guru" Charlie Ogden. Jack is seen here on an Ogden A.J.S circa 1929 - 30. Jack rode with such names as: "Cyclone Mookey" (Harold Murdoch). "Whirlwind" Webb ( Bruce ) "Bloss" " Blomfield and "Cinderella " Moore. In an interview with Jack about those days he said of Moore:  " one of Cindarella Moore's pit crew would come out onto the track with a dinner jacket and white towel over his arm whilst holding a silver tray with a glass of "cool " water for Moore to drink before his Heat.          What showmanship !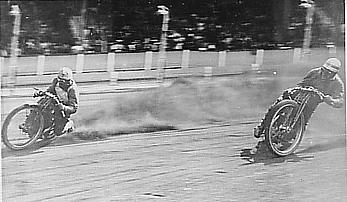 A great photo of "Cyclone" Billy Lamont on the high line above Queenslander, Vic Huxley. 

                                      Photo: Kevin Rae Collection.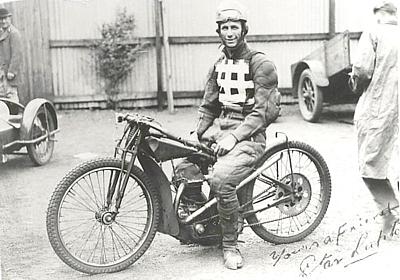 Queenslander, Stan Lupton, born in 1907, began his Speedway career in 1927,  went over to the U.K. in 1931.

Rode for Leabridge and Plymouth.  After riding with all the big names in early Speedway and getting some good results

Stan returned to Australia and captained Qld against NSW in a match at Lismore Speedway in 1933 as well participting in road racing with the Brisbane M.C.C.

A magnificent paintng by Jim Blanchard of the UK.

Vic Huxley and his little mate ' Rags ' the dog.

Anybody have any more info on the dog ?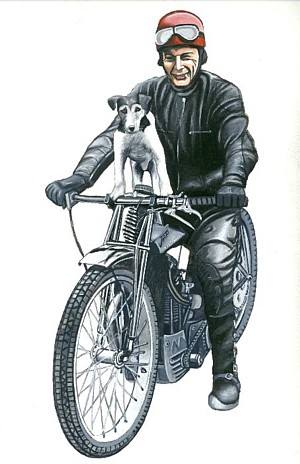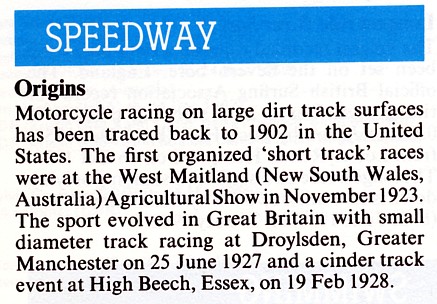 From the Guinness Book of Records - 1986