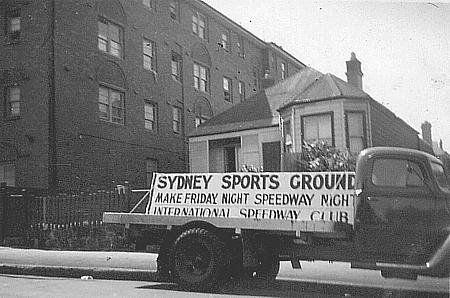 The sign on the truck says it all !

Make Friday Night   Speedway Night !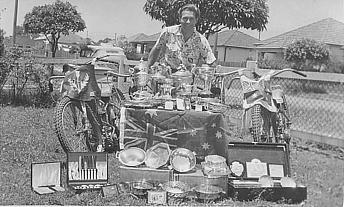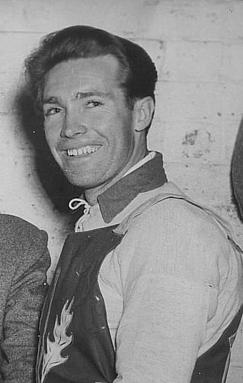 Francis James (Ken) Le Breton. "The White Ghost"

                                 1924 - 1951

Ken, with trophies, bikes, Scottish and Australian breast plates and the Aussie flag on the front lawn of his father's home in Wangee Rd, Lakemba, NSW.  His father Frank was one of Australia's greatest Speedway photographers.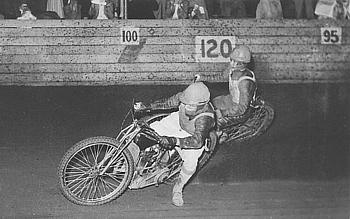 Ken leads into turn 1 at the Sydney Sports Ground Speedway circa 1949 -50.

Francis (Ken) Le Breton lost his life at his home track, the Sydney Sports Ground Speedway during the 2nd  England v Australia Test match of the 1950-51 season on 5.1.1951.

Ken collided with Englishman Eddie Rigg in the final turn of Heat 18 in a desparate effort to take 3rd place from Rigg.

Ken's sponsor Ray Duggan ( brother of Vic ) had lost his life in the same turn 12 months before  ( 20.1.1950) in a dual fatal accident with Aussie Test Team mate Norm Clay.

Ken failed in his Novice trials at the SSG after WWII and was turned away. He secured a booking at West Maitland Showgound, NSW and startled everybody by appearing with all white leathers and bike. Ray Duggan who was at the meeting took Ken uder his wing and helped Ken get re established at the Sydney Sports Ground where Ken rode in all white as "The White Ghost."

Ken went to England and signed on with New Cross in 1947 where he failed and was swapped to Newcastle for Jeff Lloyd and 1000 pounds. Ken found his footing at Newcastle and went on to represent his country in Test matches both overseas and at home.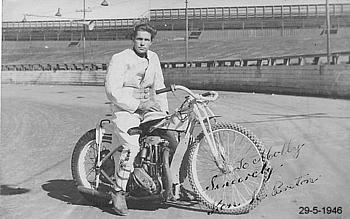 At start of his career at the Sydney Sports Ground Speedway.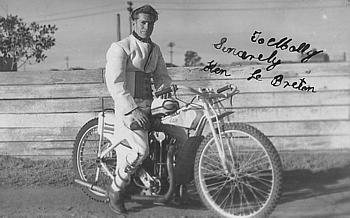 Another great early shot of Ken and it's autographed  " to Molly."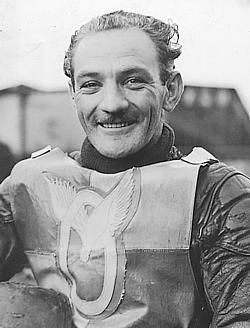 The fabulous Vic Duggan was not only a great rider but an expert bike frame designer and constructor. This photo taken at Harringay in 1948.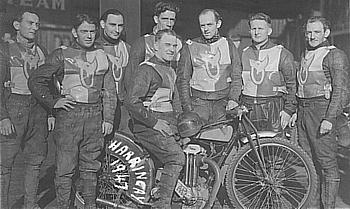 The 1947 Harringay team. Ray Duggan far left, Frank Dolan next to Ray, Vic Duggan far right as Captain.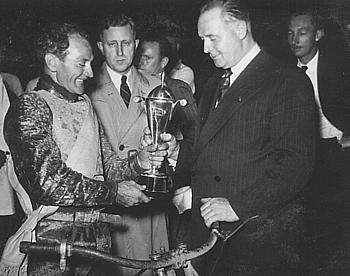 Vic receiving his Trophy for winning the Australian 2 lap Solo Title at the Sydney Showground Speedway in 1949.

Vic came 3rd in the 1937, 2nd in the 1940, and won the 1941 3 lap, the 1947 3 lap  and  the 1948 3 lap Titles.

On Vic's left is John Sherwood and on the far right is Frank Arthur, both Directors of Empire Speedway Ltd., promoters of the Sydney Showground Speedway at the time.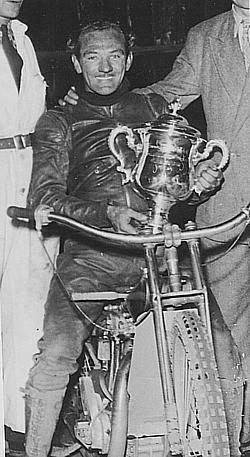 Vic with the London Riders' Cup in 1949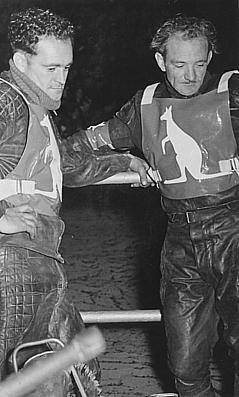 Cliff Watson and Vic in England 1947 with Test jackets.

Two mighty Aussie champs battle it out at the Sydney Sports Ground, 1948. Aub Lawson in the Newcastle ( Australia ) jacket leads Vic in to turn 1.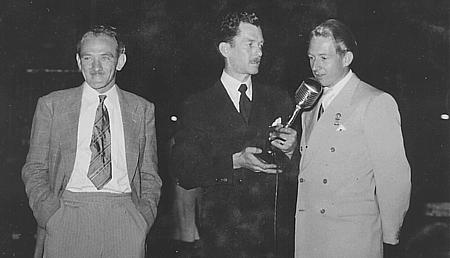 Vic, with a smile on his face with Announcer, Bill Reynolds and "The Blonde Bombshell" Graham Warren.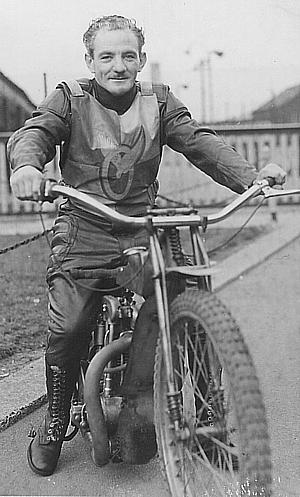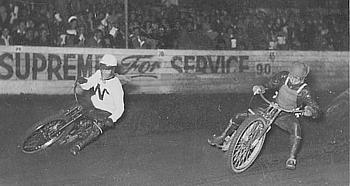 What a great photo of man and machine. Vic at Harringay, England 1949. The bike was the Harringay track spare.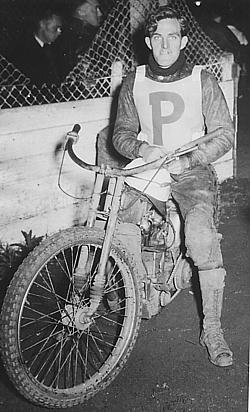 Arthur Payne riding for the Parramatta Panthers.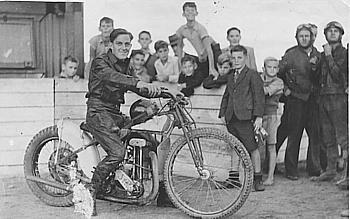 Arthur Payne in 1947 at the Newcastle ( Australia) Sportsground. Arthur rode for Birmingham in England. Far right of photo is Lionel Benson and on his right is his young passenger Peter Speerin. Lionel went on to ride solos for Australia and Peter rode outfits with Jim Davies, touring England in the early 1950s.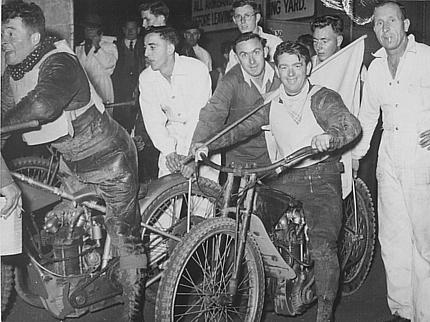 A bit of fun as they are pushed out onto the track through the Pit gates at the Sydney Showground Speedway..

Neville Haines ( Treasurer of the VSRA in 2003 ) leans forward and has a bit to say while Frankie Dolan thinks it's all a bit of fun.

Doesn't look like there are any pre race nerves here.!

Frank and Neville were in the Showground Team.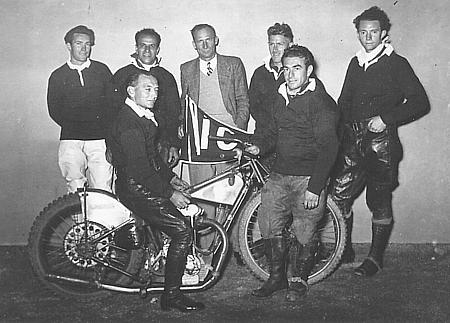 A Sports Ground Team of the late 1940s. A real mixed bag !

L to R.

Back Row : Ken Le Breton, Frank Malouf, Max Grosskreutz ( Manager ) Canadian visitor Eric Chitty, and Jack Arnfield.

Front: Ray Duggan and Lionel Levy.



On to Page 3 of Molly's fabulous collection.