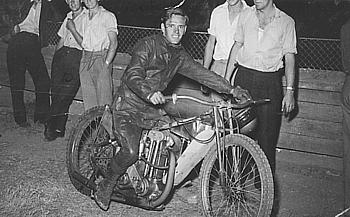 A young Les Hewitt. Les started on an ex Oliver Hart bike, rode for Coventry when in England and was President of the VSRA in 1996 and 1997.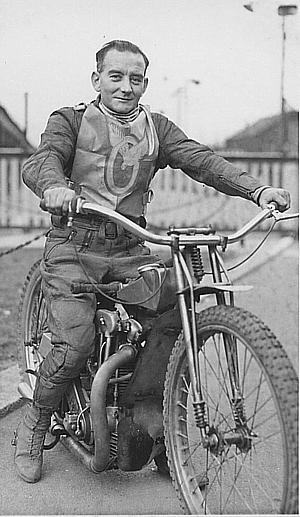 What a great photo of Ray Duggan on the  track spare bike at Harringay in England.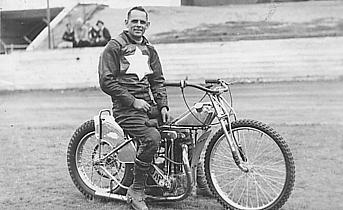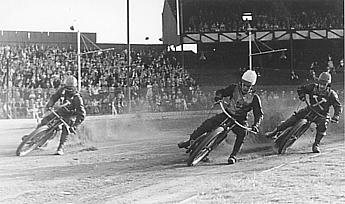 Arthur Trudgitt, always immaculate with leathers and bike. Arthur rode at the Sports Ground , Cumberland and ran a busy Motorcycle repair shop.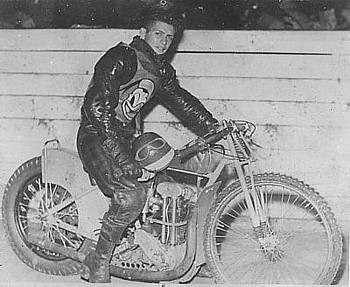 A very early photo of Don Lawson, step brother of Aub. Don went on to ride for Australia. He is wearing his "Donald Duck" breastplate.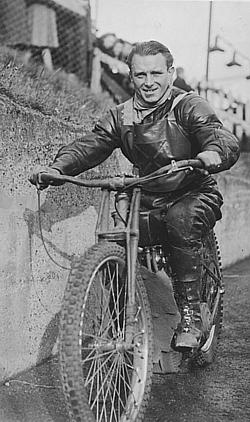 Ron Johnson, winner of the London Riders Cup in 1947 captained Australia many times in test matches. Those that knew him said Ron lived as hard as he rode...and that was hard ! He died a pauper in Western Australia after living the high life for many years in Great Britain.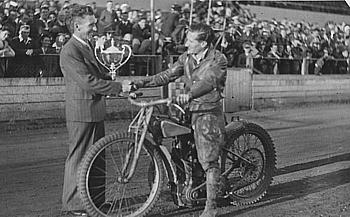 Bernard "Bat" Byrnes receives a trophy at the Sydney Sports Ground Speedway.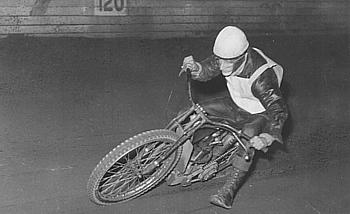 Sydneysider Trevor Savage in action. Trevor went down in the 5 rider pile up at the Royale on 7.3.1953 on the first bend of a Handicap heat that saw Jim Hansbury lose his life. Trevor broke his leg.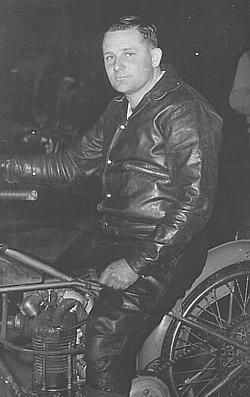 Sydney rider Noel Thorley. A backmarker at the Royale, an exciting Handicap rider to watch. Noel rode for Bradford in England.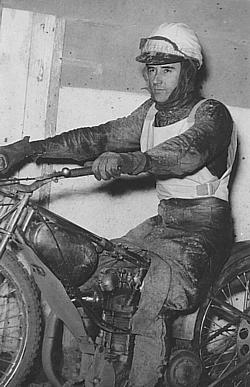 Victorian Jack Biggs, represented Australia many times. Jack ran 3rd in the World Solo Championship at Wembley in 1951. Was 3rd in the Australian title 3 times, and won the Victorian Solo Title in 1948 and 1954.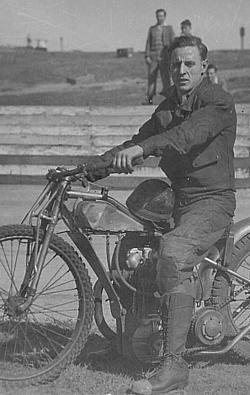 Wally Johnson rode in Sydney, Newcastle and Maitland. One evening at Cumberland Oval, Parramatta he won the card !  Wal was still riding, a two valve JAWA, in 2001 at the age of 79!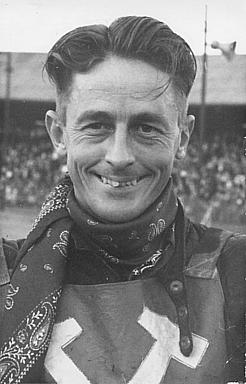 The one and only , Aub Lawson. Aub was a Finalist in the World Solo Championship 10 times. His best placing was 3rd in 1958. Aub won the Australian Solo Title 9 times, the Queensland Title 3 times and the NSW Title 5 times. The last NSW Title when he was middle aged in 1963.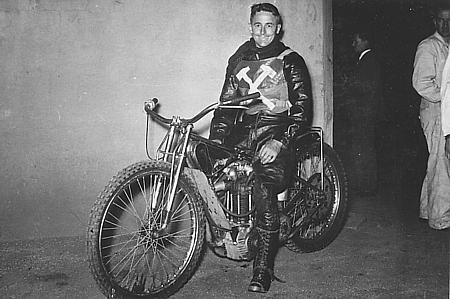 This is how I remember Aub.   West Ham jacket, black shiny leathers and a big smile for the camera. Those that rode with him said he was a hard competitor, sometimes unrelenting. You didn't get to Aub's level by saying "after you" !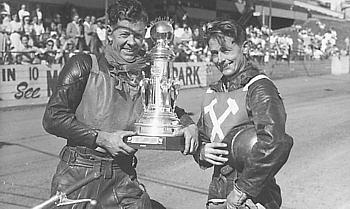 Two of Speedway's greatest rivals ! Jack Parker, left and Aub.  Aub said Jack Parker was his greatest rival, "you never knew if you would win against Jack".  Jack and Aub seen here with the 1951 Commonwealth Jubilee trophy which Jack won at the SSG.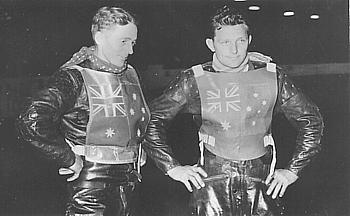 Aub with South Australian, Jack Young. 17 World Final starts between them, Jack won the World Championship in 1951 and 1952, was 9th in 1950, 4th in 1954, 6th in 1955 and 10th in 1960. Some Aussie historians say that Jack Young was the greatest rider they have seen. He was the original "Mr Cool".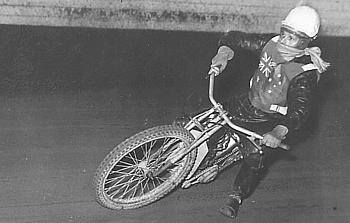 The easy style of Jack Young.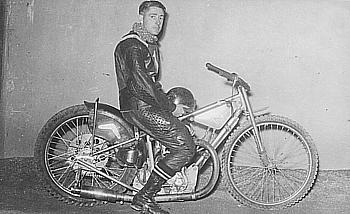 Allan Wall was one of my favourites. Allan rode for Poole when in the U.K.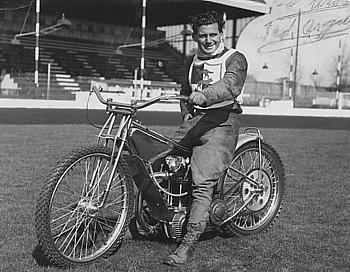 Aussie test Rider Ted Argall in England 1949.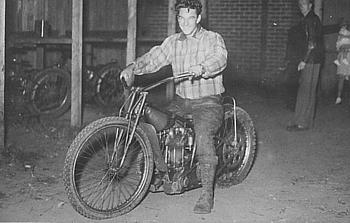 Sydney local Neil McDonald in the Pits at Cumberland Oval.  Neil not only rode Solos well he was great on Sidecars also.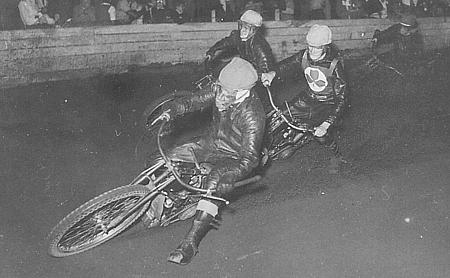 Joe Peck leads Jack Gorman at Cumberland Oval , Parramatta NSW.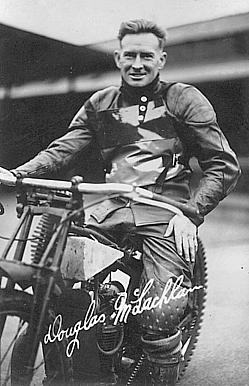 Doug McLachlan riding for the Birmingham "Brummies " at Perry Bar in England.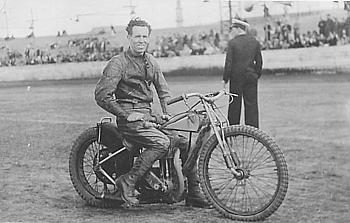 "Wild" Bill Rogers, one of Australia's greats. Bill was Aussie Champion in 1932, won at the Melbourne Exhibition Speedway in 1932 and won the title again at Maribynong ( Tracey's ) in Victoria in 1947.


Malcolm Craven on the outside, Frank Dolan and Howdy Byford in the rear.